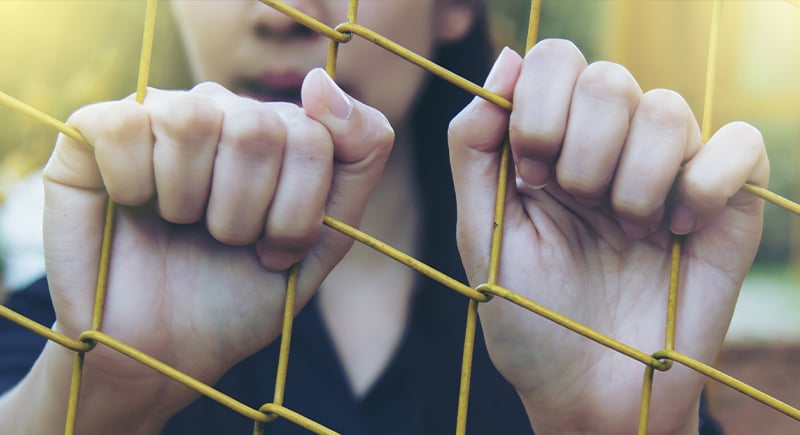 Traffickers use force, fraud, or coercion to lure their victims and force them into labor or commercial sexual exploitation. These criminals look for victims who are susceptible for a variety of reasons, including psychological or emotional vulnerability, economic hardship, lack of a social safety net, natural disasters, or political instability.

Today is National Human Trafficking Awareness Day
The astonishing reality is that the profit from these horrific acts of exploitation, kidnap, and rape, were calculated to be $150 billion per year by the United Nation's social and economic watchdog, the International Labor Organization. This money finds its way back into financial and payment systems allowing the criminals and perpetrators to enjoy the success of their criminal acts.
Often times, language barriers, fear of their traffickers, and/or fear of law enforcement frequently keep victims from seeking help, making human trafficking a hidden crime.
However, in contrast illegal sexual exploitation is being displayed in plain sight on the internet. According to our proprietary data, there are some 150,000 sites today suspected of being promoting or displaying acts of illegal sexual exploitation. This data is based on machine learning algorithms that assess different properties of the website to determine its content classification.

Please Don't Look Away
Unfortunately, both people and organizations want to look away. This is a problem. As an example, in 2017, EverC was invited to present at an industry event. When the event organizers learned of a striking statistic on human trafficking that we were about to present, we were asked to remove the number on the grounds that it was not "verified." The statistic was based on our own analysis - that there were over 60,000 websites that were suspected of displaying illegal sex exploitation.
We found it very disheartening that an industry association would want to hide figures like this. Firstly, we had stated that this represented only suspected sites, but secondly, this figure was based on our findings which have proven to be very effective and accurate. Lastly, even if the number appeared shockingly high, we were very passionate about raising awareness of the problem in a financial industry event.
Unfortunately, our arguments did not convince the organizers, and we removed the stat. A few weeks later, at a different industry event, the UK Police presented the exact same number of sites of illegal sexual exploitation that existed on the internet.
Regulators "look away" too, by making a nearly impossible process of verification. Because of both (very just) legal restrictions to store or view content that depicts illegal sexual exploitation, and due to very strict HR concerns, even in the organizational functions that are dedicated and permitted by law to detect and remove these sites, are left "unattended" to. The criminals then get away with further exploitation of the victims by displaying their exploitation online.
Because of the awful nature of these crimes, people tend to avoid talking about them. It is extremely hard to look at or comprehend. It's uncomfortable and certainly unpleasant, it's easy to look away. Let's bring awareness to this catastrophic problem and give our attention to stopping this crime.

Monetizing Human Trafficking
The second problem is a criminals' ability to charge money for the display, and then introduce this money back into the financial system as if it was legitimate clean money (aka money laundering or transaction laundering when its being done online).
In its advisory on human trafficking published last year, the Financial Crimes Enforcement Network (FinCen),
has introduced
four new Human Trafficking typologies:
Front Companies

Exploitive Employment Practices
Funnel Accounts
Alternative Payments
It is the last citation, Alternative Payments, that yields an interesting insight in the righteous battle against sexual slavery, where FinCen is referencing the Third Party Payment Processors, TPPP.
TPPPs are firms that act as a payment processor to facilitate payments through a clearance and settlement system by a written agreement with the seller. In some instances, these vehicles aggregate high-risk merchant customers that are unable to obtain banking services directly. In the commercial sex trade, some TPPPs may have become transaction-laundering vehicles for traffickers and their supporting networks.
TPPP Risk

Currently, TPPPs are excluded from the definition of money transmitters and are therefore not subject to the rigorous anti-money-laundering (AML) and customer due diligence (CDD) obligations of the Bank Secrecy Act. FinCEN refers to this exclusion as the "the payment processor exemption," according to 2014 guidance.
This exemption was initially intended to apply to payments that posed little illicit finance risk, such as utility payments. But the payment processor exemption is now relied upon by larger fintech firms with more diverse and higher risk business models.
Even more troubling, this exemption allows payment processors to act as unregulated financial intermediates between buyers and sellers, dramatically reducing visibility into merchant behavior and risk and event merchant identity.
In practice, this means that when a bank's merchant customer receives money through a payment processor that aggregates incoming payments and sweeps those funds into the merchant customer's account on a periodic basis, the merchant's bank has a dramatically reduced visibility into that merchant's source of funds. The end-to-end payment chain, which includes the originator, intermediaries, and ultimate beneficiary of the payment, is not seen by a single party with a transaction monitoring obligation.
This may explain some of the current holes in the system as "human traffickers use third-party payment processors (TPPPs) to wire funds, which gives the appearance that the TPPP is the originator or beneficiary of the wire transfer and conceals the true originator or beneficiary," according to FinCEN's HT advisory.
FinCEN also reported that "human traffickers facilitate payments via TPPPs for the operation of online escort services and online streaming services that use voice-over Internet protocol technology," and "human traffickers and their facilitators use TPPPs to wire funds to individuals or businesses both domestically and abroad."

Offshore Structures

The much more complex payment system, with a flux of merchants and micro merchants that overload the underwriting functions, explain how Human Trafficking facilitating websites gain access to the financial system. With no visibility into their underlying business models, content, or even their true identity, this is an industry-wide problem.
It is not uncommon to see high-risk TPPPs onboarding offshore entities that are not fully transparent about the real activities that generate their primary source of funds. The extent of customer due diligence required of processors only satisfies the surface level of what offshore control structures that operate sexual exploiting sites claim to do. Financial institutions are even further removed from the truth.  

Unregulated Transaction Laundering

As the symbiosis between TPPPs and offshore shell companies reveals, the foundational cyber-infrastructures that underpin the sex trade all boil down to transaction laundering (TL).
TL is the evolution of money laundering into ecommerce – it is a money-laundering typology where a merchant front is being created to process card transactions under a willfully deceitful merchant category code (MCC) to obscure the real nature of the commerce being conducted. However, in this case, TL is transpiring because existing BSA regimes exempt TPPPs from more rigorous CDD scrutiny of their high-risk customers.

What Can We Do?

Industry financial and regulatory stakeholders must come together and strategize a better plan to combat the proliferating threat of TL that is increasingly financing modern slavery. As state regulators like California's Department of Business Oversight (DBO) seek to clarify money transmitter exemptions and inspire more progressive

legislation

, the lax oversight previously enjoyed by high-risk merchant processors might be reaching its low.


Increase the use of advanced machine learning technology to detect and prevent these sites from entering the payment system entirely. The occasional false positive damage is literally infinitely lower than the false negative (that is a sex exploitation site that is being undetected due to reasons we mentioned above).

Let's do something about it. Help us to raise awareness, not just on this awareness day, but every day.
For more information on how to help us, email me at ront@everc.com.